In. It's the only way out!


.

.

.

Have you heard the Buzz?

Next Scheduled Guests:

Women In Film: director Ann Finnegan and actress Maria Rockwell: SUN Dec 14th, 2008 7:30pm

"What the Bleep" Actress Elaine Hendrix: TBA Jan/Feb 2009

Short Version: http://www.youtube.com/watch?v=L8O2LDPdXCY

Part 1: http://ie.youtube.com/watch?v=prUzWofsqf0

Part 2: http://ie.youtube.com/watch?v=mYXTCXjEpIE

Part 3: http://ie.youtube.com/watch?v=52rdUMZE-rM

Cutting Room Floor: Alcoholism/Sobriety and 30 Rock (coming soon)

.

.

Created, written, produced and hosted by Tamara Henry, MA. The focus of the show is to combine spirituality with entertainment. Tamara delves into the hearts and minds of spiritual and conscious leaders, especially when it comes to green eco-conscious topics or spiritual cinema. Tamara has interviewed doctors, entrepreneurs, authors, actors, activists, producers and directors of conscious films.

More people are tuning IN with Tamara. www.tamarahenry.blogspot.com

http://tamarahenry.blogspot.com/

.

.

http://www.thepeacealliance.org/content/view/630/46/

.

Part 1: http://www.youtube.com/watch?v=9Q-bS4a_XKQ

Part 2: http://www.youtube.com/watch?v=CmfcjL9K_Y4

Part 3: http://www.youtube.com/watch?v=TjhignKGpAk

.

.

.

Ed Asner, Elaine Hendrix, Ted Casablanca, Darryl Roberts, Marla Maples, Claes Nobel etc...

Part 1: http://www.youtube.com/watch?v=Jf0Mf7ijwwk

Part 2: http://www.youtube.com/watch?v=6BThlpgOSlU

Part 3: http://www.youtube.com/watch?v=KPh7_yfegSc

.

.

.

The 11th Hour - Part 1: http://ie.youtube.com/watch?v=27N7XcoNTXc

Leonardo DiCaprio - Part 2: http://ie.youtube.com/watch?v=lr2EcJf9rr4

Part 3: http://ie.youtube.com/watch?v=W-xWBZ6BPRg

.

.

.

.

Part 1 of 3: http://ie.youtube.com/watch?v=47m7lQHc3uA

.

.

.

http://www.prlog.org/10047516.html

http://www.onetruemedia.com/shared?p=4d71e2b733423825207b54&skin_id=701&utm_source=otm&utm_medium=text_url

.

.

.

.

.

.

..http://www.funnyordie.com/videos/58f4da7eae/vanda-spiritual-comedian-part-1-of-2

.

.

Beverly Hills - channel 43

Santa Monica - channel 77

everywhere else - channel 98

.

.

TESTIMONIAL:
"Since coming on board with Time Warner Cable TV, I have widened my experience far beyond being a local news anchor at a top-five Fox affiliate. I have gone on to achieve my dream as a TV talk-show host. I am the producer and host of my own TV show "IN with Tamara Henry" which has now completed 30 episodes!! I have interviewed celebrities on the carpet at awards shows and film festivals. I have had authors, directors, producers, actors (even the second man on the moon) as my in-studio guests. And last month, I finally scored a TV news agent - so I may be returning to my news anchor career very soon. Meanwhile, I have been co-hosting "Metro Motion" locally in LA for three years. This will be my fifth year to host on the red carpet at the "Night of 100 Stars" Oscar watch party. I have written and performed comedy skits that landed me on The Tonight Show and on Access Hollywood. I have even landed a couple of national TV reality shows - like Petfinder on Animal Planet!! And next, you will see me in the new Purina webisodes that will be launching in 2009 worldwide!!"
- Tamara Henry, Time Warner Cable TV, Santa Monica City TV


Alumni Success -

Tamara Henry, Producer and TV Talk-Show Host of "IN with Tamara Henry"
After spending five years as a local news anchor, Tamara Henry made some drastic changes to stay true to her dream of entertainment television. She moved to LA in 2001 with nothing but her cat "Kindles," and after a long INner spiritual journey next to the Pacific ocean, emerged from a cutting edge West Coast University in 2005 with a masters degree in spiritual psychology and four local television shows she was hosting! Santa Monica Update, Metro Motion, Beverly Hills In Focus, and IN with Tamara Henry. A self-made televisionary, Tamara accomplished all of this on her own without an agent or a manager. Her talk-show "IN with Tamara Henry" is a reflection of her INner journey to combine spirituality with entertainment and has just completed its 30th episode. 17 years ago in 1992, Tamara won the Fruit of the Loom "Quality of Life Award" for her inspirational mind/body/spirit work in her community for a program she created called "Promoting Health through Whole Person Wellness."

"Peaceful Warrior"


Victor Salva directed "Jeepers Creepers" and "Powder". This half hour exclusive television interview will air on Sunday night March 30, 2007 at 8:00pm coinciding with the national release of the movie by Universal.
Part 1 of 3: http://youtu.be/PeCEx0nSfKs
Part 2 of 3: http://youtu.be/1TqYVaV_ZbM
Part 3 of 3: http://youtu.be/otd9sTFFlrw

Nick Nolte as "Socrates"

In 2012, Tamara interviewed Sean Patrick Flanery who played "Powder" for her film Until They Are Home.
photos: http://www.facebook.com/photo.php?fbid=387912847887286&set=a.387908257887745.97026.171841169494456&type=3&theater

"Conversations With God"

Eric DelaBarre began his career writing for prime time Hollywood crime shows.

Eric & Tamara at the TMA Hat's Off Party.

"Spiritual Warriors"


Jsu Garcia was Captain Nadal in the Mel Gibson film "We Were Soldiers," Roman in "Collateral Damage," Pablo Obregon in "Traffic," Javier in "Along Came Polly" and gained praised for his portrayal of guerrilla leader Che Guevara in Andy Garcia's "Lost City."

Part 1: http://ie.youtube.com/watch?v=9nuV1_Aqh6c

Part 2: http://ie.youtube.com/watch?v=PyGJkQYf1tM

Part 3: http://ie.youtube.com/watch?v=4TLSiuETU4s

Fine Arts Theatre - Beverly Hills

Airing Sun Sept 23, 2007 8PM

"This has been a fascinating interview!" ~Neale Donald Walsch

Part2of3: http://ie.youtube.com/watch?v=pFYHA2VpBP8

Tamara interviews Rev. Dr. Michael Beckwith about the film after the Los Angeles advanced screening.

Entrepreneur Esq.


This entrepreneur holds the record for appearing on the most reality television shows. Now he's competing with Tamara to see who got the best Oscar Celebrity Interviews on "IN" at the OSCARS!! 4/22/2007

Part 1: http://www.youtube.com/watch?v=o4EbDdKx-cU
Part 2: http://www.youtube.com/watch?v=sUPyIcvXgHM

Book yourself or your client on "IN."


This show airs in 300,000 homes all over Los Angeles.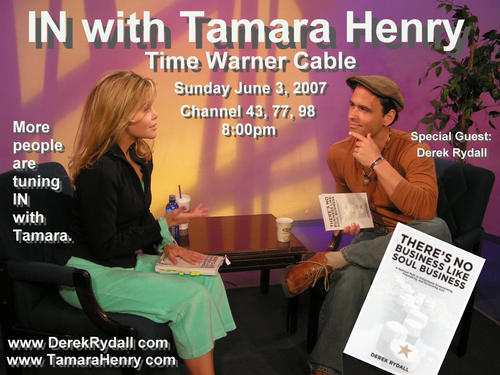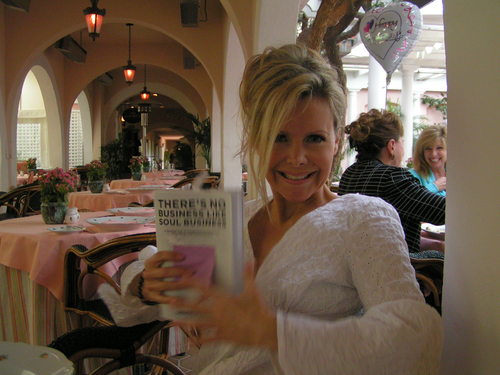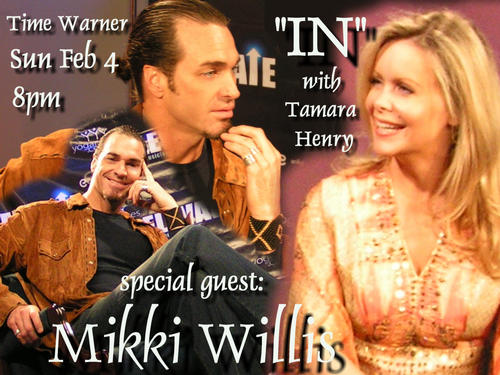 ELEVATE: Part 1 of 3: http://www.youtube.com/watch?v=uPEj3nWbyXk
ELEVATE: Part 2: KTLA debut with Lisa Bonet and Interviews with Directors/Actors on the Blue Carpet http://www.youtube.com/watch?v=mfQtxyJKO4Q
ELEVATE: Part 3: http://www.youtube.com/watch?v=CJZNRWnCjtk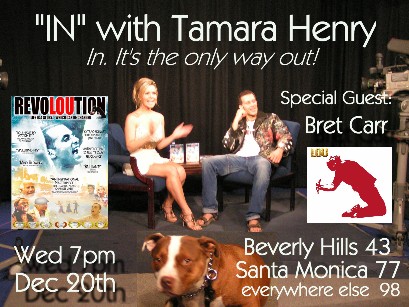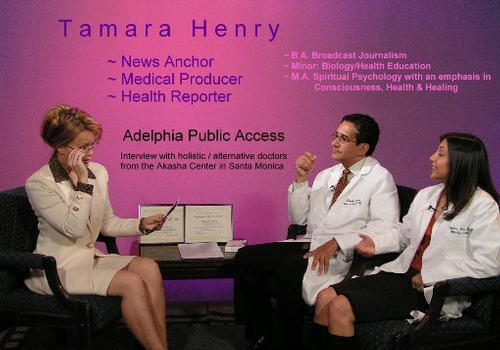 Tamara's inspirational television program received intellectual property registration at the Writers Guild of America: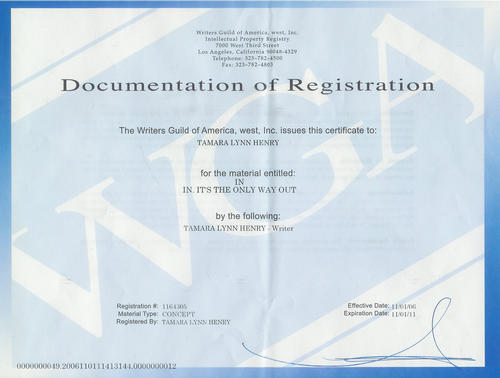 Hi Tamara,

I just viewed your "IN" show DVD. What a treat! I felt compelled to
share my notes with you that I composed while watching. Needless to
say, Tamara, your show exceeded my expectations and divulge to you
why. It was such a charmed blessing to receive your show and some of
the other materials at the ISE event. Ariel and I have been somewhat
overwhelmed by this task and the East coast is easily 10 years behind
the West. I'm happy to report that my prayers and intentions have been
answered and have been extraordinarily blessed to come in contact with
with such high quality, insightful work. So thank you, Tamara, for
"coming to your senses by losing your mind."

Okay, here goes:

1. You have a gift for self-promotion. After viewing your red carpet
interviews and the Leno show spot, I admit I was expecting something a
little more "hyped". What I was treated to was a very giving
interview. You've established such a rapport and trust with Victor on
camera and made this a one-of-a-kind interview. You've mastered the
art of "tuning in" and in the process brought out the best from both
of you without it becoming overly sensationalized. This is very rare
- you have exemplified a world shift with your presence.

2. Absolutely nothing was forced. The interview, combined with the
movie footage, made this interview emotional, engaging, and very
sincere. You have many facets - humorous, lucid, and emotionally
intelligent. You mirror Victor's energy very effectively and allowed
him to be completely himself. He mirrored your lucidity and emotional
intelligence right back because you've effectively created tha space
for him. I particularly found the discernment between light and dark
pieces especially poignant...it wasn't at all "preachy" and treated
the audience with tremendous respect. Masterfully done.

3. The movie clips chosen very much exemplified good acting. I've
been training actors through intuitive techniques, Meisner, and NLP
strategies for almost 15 years and had no idea the acting was so
inspired in this movie. My wife and I hold a deep affection for
"Powder" and for Nick Nolte (the movie "Teachers" is one of our
favorites.) More students of the craft need to be exposed to this
book and film.

4. You need to do a show featuring YOU as the guest. What a gift
that would be. There were people at the ISE the other night that I
believe could make that happen.

5. You're a major talent, Tamara. I see you breaking the mold and
setting a new standard for entertainment journalism. You're the real
deal!

So I think it goes without saying that I'd like to see more of your
work, Tamara. I don't know if you and the other ISE
members realized this - but when everyone combines resources and
cross-promotional opportunities are discovered - there's easily an
audience of over a million people waiting. There's a lot of power in
this organization.

Take very good care and I hope your audition went inspiringly well.

Blessings,
Mike
thank you for your sweet show
Hi,
Just saw your show about "conversations with god" on you tube.
Never heard of you before that, but had seen the walsh movie.
Anyway, great show…you're quite beautiful inside and out, thanks for the great messages.
Peace.
Dino Cardamone
Greetings Tamara,

I just saw your show with Buzz Aldrin and, impressive as he is with his
academic, aerospace and addiction recovery accomplishments, I was most
impressed with you.

I enjoyed how you effortlessly kept the conversation moving toward the
inner plane of existence, and its relationship with our outer
experience. I got the sense that you were not just repeating memorized
quotes and spiritual aphorisms -- there was a clear feeling that you
have engaged and experienced these truths in you own life, and in a
meaningful way. As Blavatsky said, "To know the doctrine is to live
the doctrine."

Thank you for being all this and in the form of a messenger - that is,
your beautiful and enthusiastic self - which will reach many people, so
desperately in need of spiritual nourishment, who might not hear the
message any other way.

Please let me know when your show will be on again!

With peace and love,

Chris Sheridan, M.A.
(Transformational Psychology)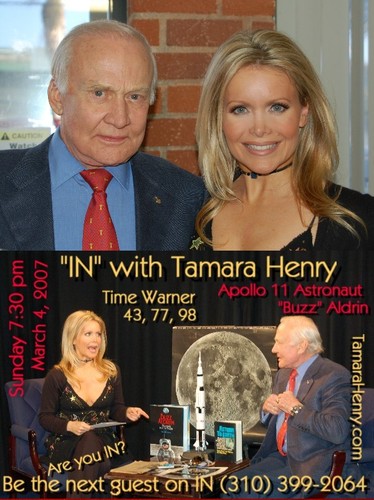 .
.
.
.
.
.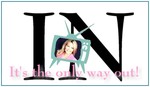 Dec 14, 2008 Women In Film: Director Ann Finnegan and Actress Maria Rockwell
Nov 9, 2008 "The Objective" and TriBeCa Film Festival
Oct 6, 2008 Gaia Film Festival and special guest Director Craig Saavedra
July 13, 2008 LA Film Fest: Funny Women and Spiritual Comedian Vanda
May 27, 2008 Memorial Day Special: Malibu International Film Festival and Michaell Madsen
April 6, 2008 Writer/Director Michael Engel
Feb 14th, 2008 Excuse Me, Your Soul Mate is Waiting - Marla Martenson
Feb 17th, 2008 What the Bleep Actress Elaine Hendrix
Jan 20, 2008 Department of Peace with clips from Marianne Williamson
Jan 6, 2008 Challenge Alaska with Steven C. Barber
Dec 23, 2007 The Flip with Jared Rosen and Environmental Media Assn Awards
Dec 2, 2007 Artivist Film Festival with A-List Celebrity Interviews
Nov 11, 2007 Elevate IV, The Secret, Drew Heriot
Sep 30, 2007 The 11th Hour with Brian Gerber
Sep 23, 2007 Conversations with God with Stephen Simon and Neale Donald Walsch
Aug 12, 2007 7 Spiritual Laws of Success w Mallika Chopra
Jun 3, 2007 There's No Business Like SOUL Business with Derek Rydall
Apr 9, 2007 IN at the Oscars
Mar 4, 2007 Apollo 11 Astronaut "Buzz" Aldrin
Feb 4, 2007 Elevate III and Mikki Willis
Dec 20, 2006 RevoLOUtion with Actor Bret Carr
Nov 5, 2006 Spiritual Warriors with Jsu Garcia
Oct 22, 2006 Conversations wtih God with Eric DelaBarre
Aug 27, 2006 Peaceful Warrior with Producer Victor Salva
Jul 16, 2006 Steven C. Barber
Jun, 2006 Akasha Healing Center for the Stars